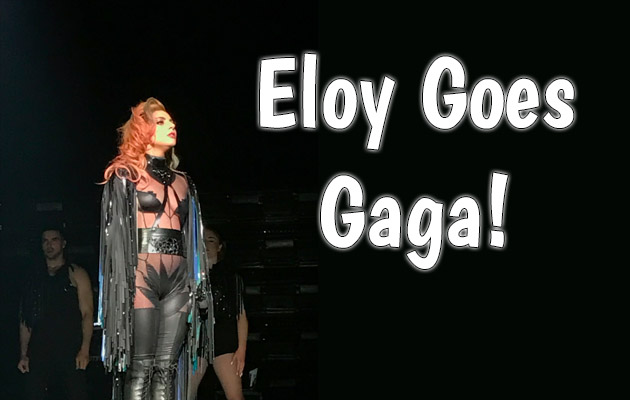 Lady Gaga is brought her highly anticipated Joanne World Tour to the Golden 1 Center in Sacramento last night and I was there to bask in all the glory!
This was my 7th time seeing Gaga live (I'm clearly a fan), and this time, I had a very specific goal in mind: to make a sign asking Gaga if I could sing on stage with her, which sounds crazy but I've seen it happen before. Unfortunately, that wasn't able to happen BUT I still had an amazing time and got some great pictures and videos to share with you!
First off, I take Gaga concerts VERY seriously, so before we proceed, take a look at my 'fit!
Now that we've taken care of that, let's talk about the show!
Gaga was a bit late to come on stage, but she was well worth it. That doesn't mean that I didn't get a little impatient.
Gaga knew that the fans were anxious though, and so she decided to kick off the show with a countdown. As the time got closer, everyone was more than excited. Then, Gaga came on and it was like magic!
Mother Monster performed so many of her hits, some fan favorites, some newer tracks off of her most recent album, Joanne, AND "The Cure," the song she debuted at Coachella earlier this year!
Check out Lady Gaga's setlist:
Diamond Heart

A-YO

Poker Face

Perfect Illusion

John Wayne

Scheiße

Alejandro

Just Dance

Telephone

Applause

Come To Mama

Edge of Glory

Born This Way

Bloody Mary

Dancin' In Circles

Paparazzi

Angel Down

Joanne

Bad Romance

The Cure

Million Reasons
Something I love about Gaga's shows are the visuals! She is known for having killer interludes and last night was no different! My favorite from last night was an interlude of Gaga going crazy and doing donuts in a blue car!
Watching Lady Gaga perform live is always a fun experience for me, no matter how many times I've seen her. She is a true performer and icon, and if you ever get the chance to see her, please do it! You won't be sorry!
Gaga closed out her show with "Million Reasons" – check out how close I was to her at the end of the show!