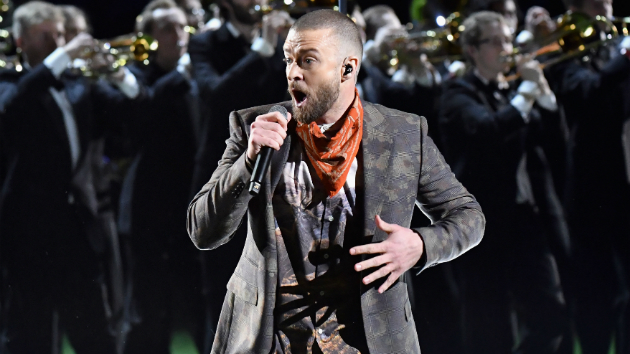 Jeff Kravitz/FilmMagic
Jeff Kravitz/FilmMagic
Justin Timberlake's Super Bowl VII [52] Halftime Show — his record-setting third appearance at the big game, and first since 2004's infamous "Nipplegate" wardrobe malfunction with Janet Jackson — was all J.T. and all about the hits, but drew mixed reviews.
Despite all the rumors, there was neither a surprise appearance by Jackson, nor an NSYNC reunion.
After opening the show with "Filthy," off his new album Man of the Woods, Justin defiantly broke into "Rock Your Body" — the song he and Jackson were performing during the controversial moment at Super Bowl XXXVIII [38]. The choice didn't go over well with twitter-verse, whose sentiments were summed up in a tweet that called it "tone deaf."
Timberlake, backed by his band, The Tennessee Kids, followed followed with a medley of hits that included "SexyBack," "My Love" and "Cry Me a River."
He left the stage, walked through the stands and stopped at one point to take a "Super Bowl selfie" with a young fan.
J.T. and his backup dancers then moved to a smaller stage, where he sat behind the piano and sang "Until the End of Time," from his album, FutureSex/LoveSounds.
As advertised, Timberlake paid tribute to Minneapolis native Prince — who passed away nearly two years ago — with a faux duet on Prince's "I Would Die 4 U." Rather than a hologram, as had been rumored, Justin performed to a video of the music legend projected on a huge scrim. It didn't go over well with Prince fans, including one who wrote, "To bring out Prince to improve this mediocrity is a damn embarrassment. I'm fumin."
After performing "Mirrors," from his 2013 collection, The 20/20 Experience, Timberlake closed the show with "Can't Stop the Feeling," his #1 hit from the animated film Trolls.
Pink soldiered through a performance of the national anthem before the game despite suffering from the flu, although she struggled with a falsetto note near the end of the performance and drew some online comments for spitting out a throat lozenge before singing.
Copyright © 2018, ABC Radio. All rights reserved.