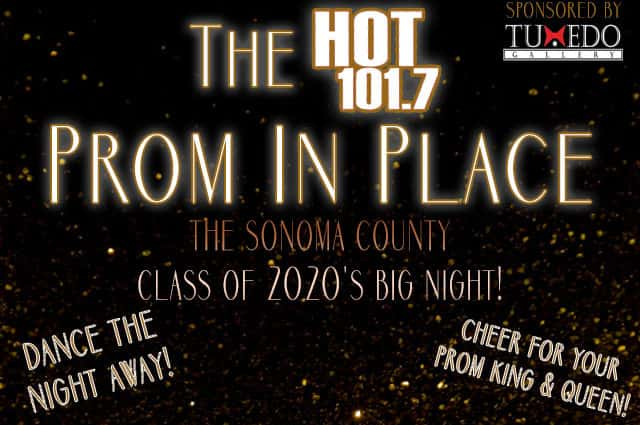 THERE'S NO WAY TO HAVE PREDICTED WHAT 2020 WOULD LOOK LIKE, ESPECIALLY FOR OUR GRADUATING CLASSES OF 2020

WITH MANY OF THE SPECIAL CELEBRATIONS THAT HIGH SCHOOL SENIORS NORMALLY GET TO ATTEND, HOT 101.7 WANTS TO GIVE YOU THE OPPORTUNITY TO CELEBRATE PROM FROM THE COMFORT – AND SAFETY – OF YOUR OWN HOME!

JOIN US FOR HOT 101.7'S PROM IN PLACE ON MAY 15TH AT 6 PM!

ELOY WILL BE YOUR PROM IN PLACE HOST AND HE'LL PROVIDE THE PROM MUSIC PLAYLIST TO HELP YOU DANCE THE NIGHT AWAY!

PLUS, DON'T FORGET TO GET DRESSED UP – ENTER TO WIN A CLOTHING RENTAL FROM TUXEDO GALLERY FOR YOUR PROM NIGHT PHOTOS! YOU CAN ONLY ENTER TO WIN THROUGH THE ALL-NEW HOT 101.7 APP, SO BE SURE TO DOWNLOAD IT HERE!

PROM ISN'T COMPLETE WITHOUT THE CROWNING OF YOUR PROM KING AND QUEEN – ALL WEEK LONG, ALL SONOMA COUNTY HIGH SCHOOL SENIORS CAN SUBMIT THEMSELVES OR SOMEONE THEY KNOW TO WIN PROM KING OR QUEEN!

SUBMIT A NAME AND PICTURE ON THE HOT 101.7 WEBSITE TO GET IN THE RUNNING HERE!

DURING THE WEEK OF PROM IN PLACE, YOU'LL BE ABLE TO CAST YOUR VOTE AND LISTEN IN ON THE PROM IN PLACE EVENING TO FIND OUT WHO WILL WIN!

WE ARE STANDING UNITED AND STRONG AGAINST COVID-19, AND HOT 101.7 IS EXCITED TO GIVE YOU THE MOST EPIC PROM IN PLACE EVER!