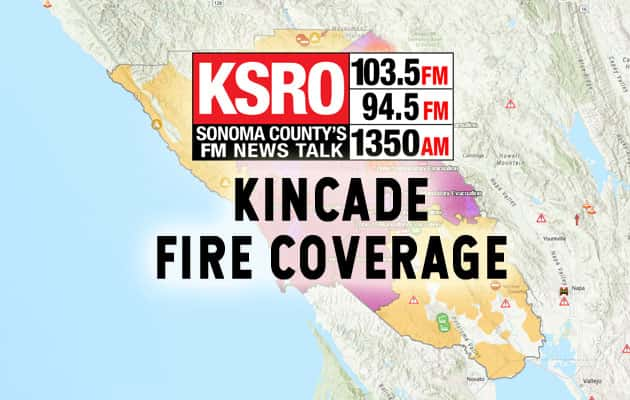 Updated 11/1/19 8:10AM
Fire personnel made good headway in their fire fighting efforts overnight. A total of 77,758 acres have burned but containment is up to 68%! Because of this progress, re-population planning efforts are still underway. Access to the northern part of the fire remains challenging because of steep terrain and narrow roads, but firefighters will continue to build on the headway they have been making with even more control lines being established. A total of 4,957 personnel, 543 engines, 105 hand crews, 66 dozers, 64 water tankers, 15 helicopters and numerous firefighting air tankers from throughout the State are flying fire suppression missions as conditions allow.
EVACUATION ORDERS:
Zone 1B: West of Lake County Line, North and East of Highway 128. South of Cloverdale, East of Asti Road/Geyserville Ave at Canyon Road. Including Asti Road.
Zone 2: Hwy 128 North Knights Valley Area to the Napa County Line
Zone 3C: Area South of Highway 128 and the fireline, East of Windsor Town limits, North of Faught Road at Shiloh Road and the Zone 5B boundary.
Zone 5B: Area South of Highway 128 and Yellow Jacket Ranch Road, West of Highway 128 and the Zone 6 boundary to the Zone 3C boundary, including areas accessed East of Shiloh Ridge Road at Mayacama Club Drive.
EVACUATION WARNINGS:
Zone 1A: Area South of Canyon Road to Alexander Valley Road. West of Highway 128 to Highway 101.
Zone 3A: Area South of Alexander Valley Road, East of Highway 101, and West of Highway 128, North of the fireline, Including all areas within the Healdsburg City Limit.
Zone 3B: The Windsor town limits, including area North of Arata Lane.
Zone 5A: Area East of Highway 101 and Fulton Road, West of Redwood Hill Road at Mark West Springs Road and the Zone 6 Boundary, North of Wood Road and Dennis Lane, South of E. Shiloh Road and the fire line.
Zone 6: Areas North and East of Santa Rosa City limit. East to Sonoma County/Napa County Line and South of the Zone 5B Border.
Please see below map OR CLICK RIGHT HERE to see more precise representations of the evacuation zones:
Evacuation Centers:
Santa Rosa Veterans Memorial Building
1351 Maple Ave
Santa Rosa, CA 95404
Sonoma County Fairgrounds
1350 Bennett Valley Rd
Santa Rosa, CA 95404
Petaluma Community Center
320 N McDowell Blvd
Petaluma, CA 94954
Napa Valley Expo
575 3rd St
Napa, CA 94559
Crosswalk Community Church Napa
2590 1st St
Napa, CA 94558
New Life Church
1315 Rand St.
Petaluma, CA 94954
Marin County Fairgrounds
10 Ave. of the Flags
San Rafael, CA 94903
Petaluma Veterans Building
1094 Petaluma Blvd S
Petaluma, CA 94952
St. Mary's Cathedral
1111 Gough St
San Francisco, CA 94109
Calvary Chapel of Petaluma
1955 McDowell Blvd.
Petaluma, CA 94954