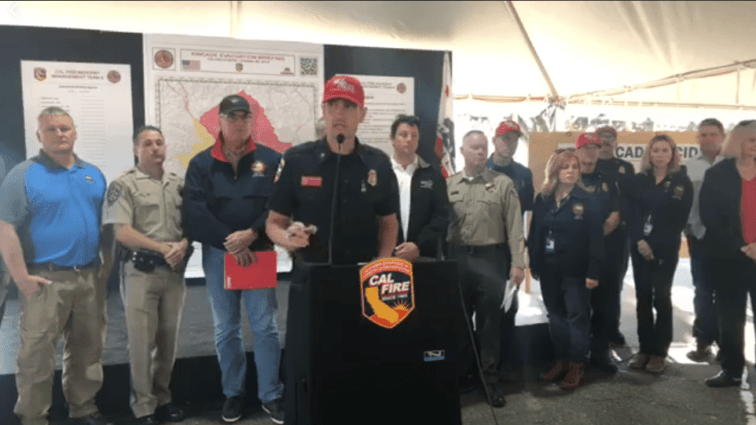 At a press conference at the Sonoma County Fairgrounds on Saturday morning, Cal Fire announced that due to the advancement of the Kincade Fire in Geyserville, they have ordered mandatory evacuations for the entire cities of Healdsburg in Windsor.  The full release from Cal Fire:
"EFFECTIVE IMMEDIATELY:
Mandatory Evacuations Orders have been issued for Zone 2 and Zone 3.
Zone 2: Highway 128 north of Knights Valley to the Napa County Line.
Zone 3: Highway 101 corridor from Geyserville South through the town of Windsor.  This includes the entire town of Healdsburg and the entire town of Windsor, all areas east to the Chalk Hill Road area.
Additional Evactuation Warnings have been issued for
Zone 4
The Dry Creek Valley West of Forestville.
Zone 5
Larkfield and Mark West Drainage"
Sonoma County Sheriff directs Healdsburg and Windsor residents to evacuate along Highway 101 South to Petaluma.  Shelters in Petaluma are:
Petaluma Fairgounds (Sonoma-Marin Fairgrounds)
175 Fairgrounds Dr, Petaluma, CA 94952
and
Petaluma Veterans Hall
1094 Petaluma Blvd S, Petaluma, CA 94952
Live stock can be sheltered at:
Sonoma County Fairgrounds
1350 Bennett Valley Rd, Santa Rosa, CA 95404
This is a historically large evacuation in Sonoma County.  Officials confirmed that this was done out of an abundance of caution, in advance of nightfall and potential PSPS power outage.  They are electing to do these evacuations now, to avoid incidents such as the evacuation injuries that happened yesterday.
If you live in the areas mentioned above for mandatory evacuations, please take these warnings seriously.  Keep it on KSRO all weekend long as we give round the clock live updates of the Kincade Fire.  CLICK RIGHT HERE for all the ways to listen to KSRO on any device.
Here's the full press conference courtesy of the Sonoma County Sheriff: