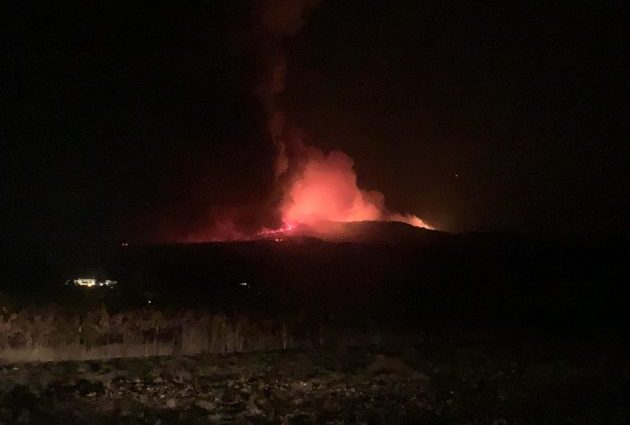 What is being called the Kincade Fire is burning north of Geyserville and is at about 10,000 acres. There is no containment at this time. Evacuation orders are in effect for Geysers Road to Highway 128, Pine Flat Road, and Red Winery Road. Misti Wood with the Sonoma County Sheriff's office says residents in those areas should be prepared to leave.
It started last night around 9:30 PM at Kincade Road near Burned Mountain Road in the area of the Geysers geothermal field. Winds were blowing 60 miles per hour from the northwest last night.
There are two evacuation centers at this time:
Healdsburg Community Center – 1557 Healdsburg Ave, Healdsburg. – For People ONLY
Sonoma County Fairgrounds – 1350 Bennett Valley Road, Santa Rosa. – Livestock ONLY
Santa Rosa Vets Building –  1351 Maple Ave, Santa Rosa. – For People ONLY
*UPDATE* As of 6:23am, an evacuation order is effect for the entire community of Geyserville. If you're in Geyserville, leave now. Head South to evacuation centers in Healdsburg and Windsor. At this time, THERE ARE NO REPORTS OF FIRE IN SANTA ROSA!!!
District 4 Supervsior James Gore shared a big concern about the fire spreading.
If you are in the area, you can sign up for Nixle reports by texting with SMART phone to 888 777. You can also dial 211 for information