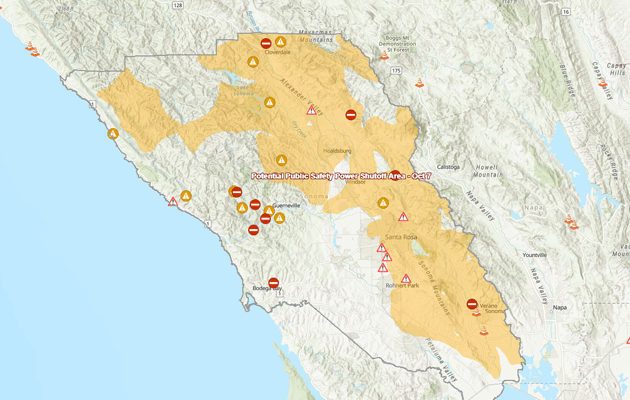 PG&E has announced wide-spread power shutoffs in wake of Red Flag fire conditions from the National Weather Service.
Power Stations:
Santa Rosa: There is a PG&E Community Resource Center set up at the Santa Rosa Veterans Memorial Building with water, air conditioning and charging stations for phones and mobile devices.
1351 Maple Ave, Santa Rosa, CA 95404
Hours: 8am-6pm
Sonoma: In the City of Sonoma, there is a community charging station at the Sonoma Veterans Memorial Hall at 126 1st Street West Open 8:00 AM – 8:00 PM.
Rohnert Park: The City of Rohnert Park will be opening a Community Charging Center at the Burton Recreation Center located at 7421 Burton Avenue, Rohnert Park beginning October 9, 2019, from 8:00 a.m. – 6:00 p.m.
Community Charging Centers (locations where you can charge electronic devices) will be open in Petaluma at two locations on Thursday, October 10:
The Petaluma Community Center, 320 N. McDowell – open from 8 a.m. to 8 p.m.
Petaluma Fairgrounds, 175 Fairgrounds Drive – open from 9 a.m. to 5 p.m.
The County of Sonoma has provided the below map of the expected shutoffs:
Confirmed Outages:
Santa Rosa, there are currently 12 outages affecting nearly 71,000 customers.
Rohnert Park: 1 outage affecting 2,100 customers
Healdsburg: 1 outage affecting nearly 2,400 customers
Sonoma: 6 outages affecting nearly 16,000 customers
Petaluma: 6 outages affecting nearly 4,500 customers
Geyserville: 2 outages affecting nearly 2,800 customers
Glen Ellen: 3 outages affecting nearly 8,300 customers
Calistoga: 18 outages affecting nearly 3,900 customers
Cloverdale: 1 outage affecting nearly 2,600 customers
Larkfield-Wikiup: 3 outages, affecting nearly 1,900 customers
Windsor: 1 outage
Napa: 38 outages, affecting 20,300 customers
Phase 2 of the Public Safety Power Shutoff has occurred, however PG&E has confirmed that new no shutoffs will occur.  If you are currently in blackout, that will continue.  But if you have power, at the moment, you will continue to have power. This is a fluid situation, that could change as PG&E makes decisions.
The following schools plan to be closed Thursday, Oct. 10 as of 4:30pm: 

Alexander Valley School District
Cloverdale Unified School District
Geyserville Unified School District
Kashia School District
Mark West Union School District (only Riebli Elementary)
Petaluma City Schools (only Kenilworth Junior High)
Rincon Valley School District—only the following schools are closed as of now.

Austin Creek Elementary
Sequoia Elementary
Rincon Valley Charter School
Whited Elementary
Binkley Elementary
Madrone Elementary

Santa Rosa City Schools—only the following schools as of now. The district website should be checked for updates.

Maria Carrillo High
Rincon Valley Middle
Santa Rosa Accelerated Charter School
Santa Rosa Middle
Hidden Valley Elementary
Proctor Terrace Elementary
Lewis Education Center

Sonoma Valley Unified School District (closed through Friday)
Waugh School District—closed for non-student days. Teacher conferences still running.
West Side Union School District
Santa Rosa Junior College (all campuses in all cities, including online classes)
KSRO and it's sister radio stations Froggy 92.9, 97.7 The River, HOT 1017 and K-Hits 104.9 have dedicated backup power systems and will continue broadcasting throughout the outages.  Stay tuned to the stations or this post to stay up to date with any breaking news.
The SMART Train is on its normal train schedule today, serving all stations including those with power. However, be prepared for delays and look out for SMART Train personnel directing traffic at train crossings.
The Redwood Empire Food Bank is accepting perishable food items for redistribution if you have things in your fridge or
freezer that will not last. The Food Bank is located at 3990 Brickway Boulevard in Santa Rosa. More info at REFB.org