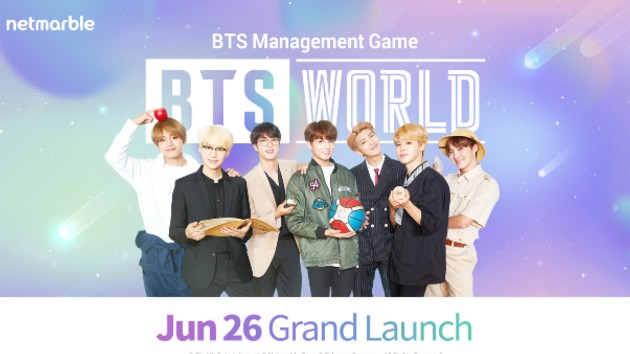 Big Hit Entertainment/Netmarble Corp./Takeone Company
Big Hit Entertainment/Netmarble Corp./Takeone CompanyBTS-adjacent releases continue to flood the global market.
The K-pop superstar's new mobile game BTS World is now available to download via Google Play and the App Store. The game allows you to serve as the group's manager and shepherd them to worldwide fame.
The game includes 10,000 new photos and 100 exclusive video clips, and allows players to interact virtually with BTS. In addition, a new song from the game's upcoming soundtrack, "Heartbeat," is an in-game exclusive for the first 48 hours.
The full soundtrack, due on Friday, includes "Heartbeat," the three previously-released BTS unit songs "Dream Glow," "A Brand New Day" and "All Night," and each BTS member's theme songs within the game.
And in other BTS news, the group's latest film, Bring the Soul: The Movie, will open in limited release on August 7, with tickets going on sale July 3.
Shot after the final concert on the Love Yourself tour, the movie finds the group gathered on a rooftop in Paris to share their personal reflections about the trek. Performance footage from the tour is also included.
BTS' collab with Halsey, "Boy with Luv," was recently certified platinum.
Copyright © 2019, ABC Radio. All rights reserved.