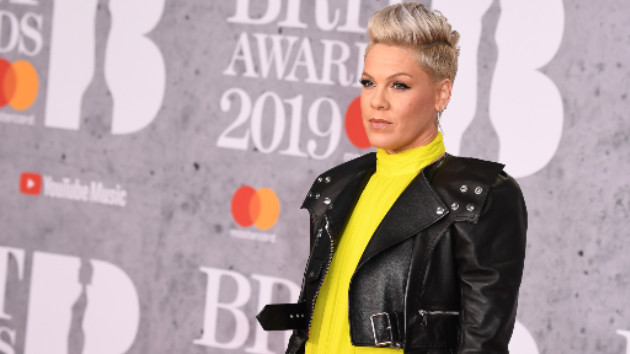 Jeff Spicer/Getty Images
Jeff Spicer/Getty ImagesKelly Clarkson and Dua Lipa may be Grammy-winning global pop stars, but they're not above turning into total fangirls when they encounter their favorite stars online or in real life.
At the BRIT Awards earlier this week, Best British Single winner Dua got a chance to meet her all-time idol, Pink, who was there to perform and receive the Outstanding Contribution to Music Award.
Dua posted a photo of them together, and wrote, "I met my idol last night and it was nothing short of perfect. It's so nice to meet someone you've always looked up to, who's music has always been there for you and know they are everything you imagined. Thank you @Pink for being the realest. I feel so lucky."
To which Pink replied, simply, "You're the bestest!!!!" She also posted Dua's photo on Instagram and added, "This girl is the real f****** deal right here. I was so happy to meet her."
Meanwhile, while on tour, Kelly Clarkson performed a cover version of "The Joke," the Grammy-winning song by Brandi Carlile, which Brandi performed at the Grammys. The song is quite difficult to sing, but Brandi gave the performance a thumbs-up. Retweeting an article about it, she wrote, "Nailed it!"
To which Kelly replied, "I didn't nail it BUT I tried and I love you and wish I could cover your songs every night #LookingOut has been my jam for years girl, along with most of your catalogue."
By the way, Kelly's not the only celebrity fan of Brandi Carlile. President Barack Obama famously include "The Joke" on a playlist of his favorite songs of 2017, and her songs have been covered by Adele, among others.
Copyright © 2019, ABC Radio. All rights reserved.