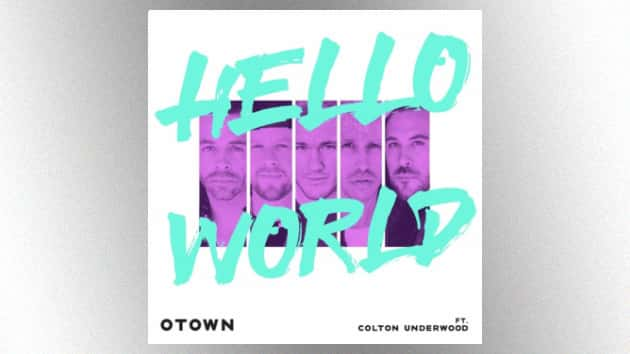 Pacific Records
Pacific RecordsRemember O-Town? The early 2000s boy band born out of ABC's Making the Band is back with a new song…featuring this season's Bachelor, Colton Underwood.
Colton – in his very first musical contribution — joins them on the track, "Hello World."
So how did this seemingly random collaboration come about? Colton had reached out to his pal and O-Town member Jacob Underwood — no relation — about writing a song to help raise money and awareness for his charity, the Colton Underwood Legacy Foundation.
Jacob wrote the track, then Colton was invited to record the song with them in San Diego. Colton ended up singing the line "I want to see you learn," which the song samples after the second chorus.
All of the proceeds will go to Colton's charity, which provides funds and support for people with cystic fibrosis.
"Very excited to be releasing 'Hello World' and grateful to O-TOWN for partnering up!" Colton says in a statement. "They are so great to be using this song to help raise funds for the Legacy Foundation and I know it's going to be big!"
Jacob adds, "There's nothing more rewarding than the opportunity to use our God-given gifts to help people in need. This song is very special to me, and I hope that it becomes an anthem not only for the kids effected by Cystic Fibrosis, but anyone who has chosen to live their best life in the face of pain and heartache."
O-Town is preparing to release their fourth album, OWTN, which will be split into two EPs. They'll be making select tour stops this year on the Pop 2000 tour.
Copyright © 2019, ABC Radio. All rights reserved.