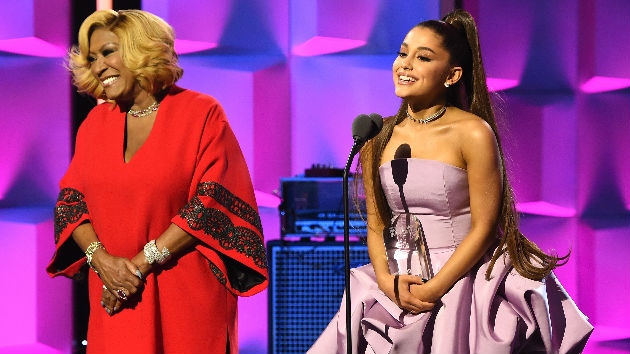 (Patti LaBelle, Ariana Grande) Kevin Mazur/Getty Images for Billboard
(Patti LaBelle, Ariana Grande) Kevin Mazur/Getty Images for Billboard2018's been quite the roller coaster year for Ariana Grande: She's scored huge success on the charts, but she also went through a breakup with rapper Mac Miller, who then died tragically, and then a quickie engagement and second breakup with Saturday Night Live player Pete Davidson. Ariana acknowledged both those things as she accepted the Billboard Woman of the Year Award in New York City Thursday night.
"I find it interesting that this has been one of the best years of my career and the worst of my life," Ariana told the crowd of music industry professionals after performing her #1 hit "thank u, next."
"A lot of people would look at someone in my position right now…and think…'She's got it all,'" she continued. "And I do, but as far as my personal life goes, I really have no idea what the f**k I'm doing!"
She went on to thank her team and her musical collaborators, before concluding, "I'm really looking forward to embracing whatever happens and whatever comes my way. I look forward to hopefully learning to give some of the love and forgiveness that I've given away so frivolously and easily to men in the past to myself, hopefully, this year."
Ariana was given her award by no less a legend than Patti LaBelle, who called Grande her "baby girl," and joked, "I have shoes older than her — and taller than her! — but she is a giant talent."
Speaking of legends, '80s pop queen Cyndi Lauper received the Icon Award from Dua Lipa, and was saluted by Unbreakable Kimmy Schmidt star Tituss Burgess, who sang a jazzy rearrangement of Cyndi's hit "Time After Time." In a rambling and hilarious speech, Cyndi recalled starting her career in the days when record labels literally had quotas as to how many female artist they could sign. "Sisterhood is a powerful thing," she told the mostly female audience. "We need to stick together. We need to promote each other."
Award-winning country star Kacey Musgraves, whose album Golden Hour was included on seemingly every single 2018 "best-of" list, received the Innovator Award from DJ Zane Lowe. She sang one of the album's tracks, "Butterflies," and told the crowd, "I feel really hopeful and proud about the state of the modern woman: Her bravery, her unapologetic celebration of rights. Her life, her mind, and her art. And definitely most of all, her realness."
Rapper Tierra Whack presented Janelle Monae with the Trailblazer Award. The singer and actress told the crowd, "Being a trailblazer is about diving into spaces unseen and undiscovered. For me, that meant uncovering aspects of who I am in order to make spaces for others." She then shared that being open about her sexuality on her acclaimed album Dirty Computer inspired a young female fan to do the same.
"She told me she had come out to her grandmother and her mother because of the album," said Janelle. "And I think moments like those, they remind you, no matter what's going on in your life, how bad you're feeling — that by us walking in our truths, it can sometimes give the next person courage to walk in theirs."
Anderson.Paak, one of the few men to appear onstage Thursday night, presented SZA, who he toured with in the past, with the Rule Breaker Award. She told the crowd, "I guess when I was younger, I pictured a rule-breaker to be somebody who, like…has no fear, walking away from large explosions or whatever."
As the crowd laughed, she added, "But as long as you end up here, this is the explosion, so it doesn't matter how you feel on the way…I just want to thank everyone for having patience to watch someone grow."
Lauren Jauregui presented her friend Hayley Kiyoko with the Rising Star Award. At first, Hayley was in tears, because, she said, "It's the first time I've accepted an award on stage."
She then got a huge laugh when she told the crowd, "My mom told me that you're only a rising star once and then after that, you're old news. So, I'm really going to take in this moment because this is it for me! You'll never hear from me again!"
Ellie Goulding hosted the annual event, and Alicia Keys was also on hand to announce a new initiative, She Is the Music, which will work to help women in the music biz discover and connect with one another, starting with the establishment of a database of every woman in the industry.
"If you're a woman in music, you need to be a part of this," Alicia told the crowd. "We can find each other, and we can hire each other."
Copyright © 2018, ABC Radio. All rights reserved.