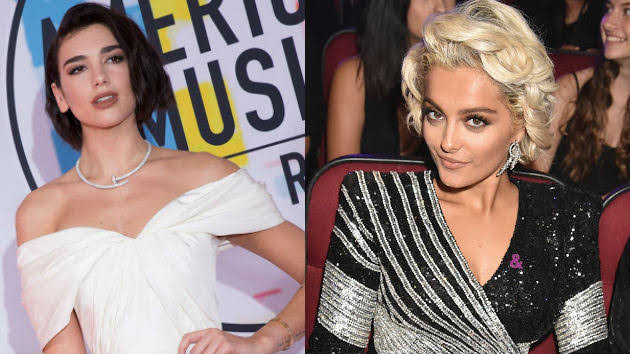 ABC/Image Group LA; FilmMagic, Inc via ABC/Jeff Kravitz/AMA2018
ABC/Image Group LA; FilmMagic, Inc via ABC/Jeff Kravitz/AMA2018Nominations for the 61st annual Grammy Awards will be announced Friday morning, and as one of the breakout stars of 2018, Dua Lipa's been mentioned as a possible Best New Artist nominee. Dua tells ABC Radio "it would be crazy" if her name was called Friday.
"As artists, you never really do it for the accolades," notes Dua. "But the Grammys is something so prestigious that getting the recognition — especially being a British artist and getting the recognition on the other side of the pond — makes it really special."
But it's not just that aspect of a Grammy nomination that's important to Dua. "It's, I guess, recognition from my peers in the music industry, which also means a lot," she explains, then laughs. "I mean, it would be crazy. I don't really know. I'm just rambling on right now 'cause I have no idea!"
Another Albanian singer/songwriter who might get a nod on Friday: Bebe Rexha. "Meant to Be," her smash single with Florida Georgia Line, was a #2 pop hit and topped the country charts for 50 weeks, giving it a decent shot at a nomination. But Bebe tells ABC Radio that her feelings about that particular award have changed over the years.
"I always wanted to win a Grammy and I still do, but I think that if you don't, it doesn't define who you are as a person, you know what I mean?" she explains.
"It is a nice thing to get, of course, to be recognized for your art," Bebe adds. " But if I don't, it's O.K., 'cause it doesn't mean I'm a worse or better person because of it."
Other artists likely to be nominated Friday: Taylor Swift, Drake, Janelle Monae, Ariana Grande and Maroon 5. Stay tuned.
Copyright © 2018, ABC Radio. All rights reserved.