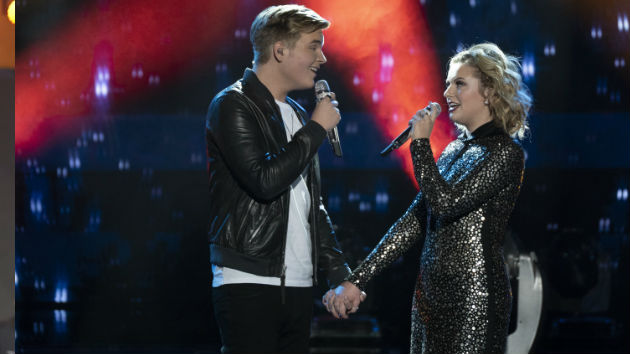 ABC/Eric McCandless
ABC/Eric McCandlessThe road can be a lonely place, but not if you get to have your significant other on tour with you.
American Idol winner Maddie Poppe and runner-up Caleb Lee Hutchinson — who happen to be girlfriend and boyfriend — are looking forward to kicking off the American Idol tour together tonight in Redding, California.
The two tell ABC Radio there are a lot of benefits to bringing their relationship on the road. Namely, they don't get as homesick.
"Don't get me wrong, I still miss [my family] but it's so much easier and I really don't get homesick when he's around and when, you know, the rest of the top seven are around," Maddie says. "We just have a lot of fun together."
Caleb agrees, adding, "Leaving home and not having your folks and your regular support system around you, it can be a little overwhelming to get launched into such a big thing and not have that with you. So I think having her kinda got me through the show and will definitely make the tour a lot easier."
And they won't be the only couple on the tour. Two of the other finalists — Gabby Barrett and Cade Foehner — are also dating. But Caleb and Maddie say it's not going to be couples vs. singles.
"I think when we're all together we're all best friends," Caleb says. "But I happen to love Maddie more than anyone else."
American Idol: Live! 2018, featuring this season's top seven plus season 8 champ Kris Allen, will hit 40-plus cities and wrap on September 16 in Washington, D.C.
Copyright © 2018, ABC Radio. All rights reserved.