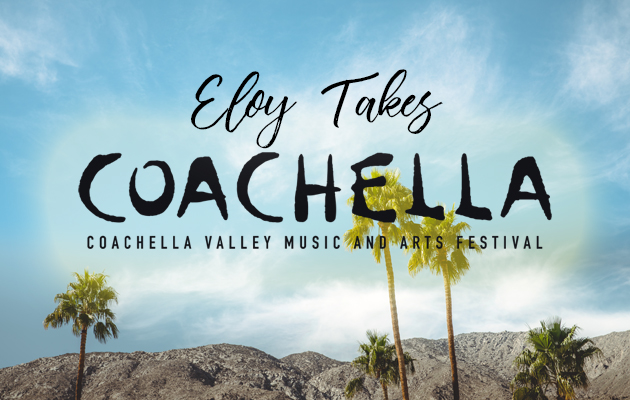 Last year, I took on Coachella for the first time… and I got hooked!
I'm BAAAAAACK, and boy, did I have fun!
Where to start with Coachella weekend 2? Probably best to start at the beginning…
My friends and I arrived at Coachella on Friday morning. Lots of attendees were nervous because Coachella made an announcement on Wednesday that camping admission would be delayed due to high wind warnings. Thankfully, the wind didn't cause us much damage. Day 1 was off to a great start!
By the way, my favorite outfit that I wore during this weekend was my day 1 'fit. I mean, c'mon!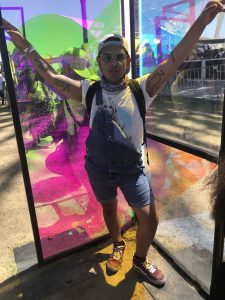 During the first day, we saw some really awesome acts including Kali Uchis, Kygo, SZA, and The Weeknd. I'm pretty sure I terrified the women next to me during Kygo's set because I screamed so loudly when he brought out a very special guest…
That's right! ARIANA GRANDE showed up to give us a live debut of her new song "No Tears Left To Cry!" It was such a big surprise and the crowd was very happy to see her. SZA and The Weeknd also put on amazing shows!
Day 2 was bound to be a big day for me as I was going to see the one and only Beyoncé. I saw a handful of artists, including BØRNS, MØ, Tyler the Creator, and HAIM. My friend and I waited for about 7 hours to get a decent spot to see Beyoncé and it was absolutely worth it. We were ridiculously close to her!
She also brought out Destiny's Child like she did last weekend and it was incredible – I immediately thought to myself that that was a a once in a lifetime moment.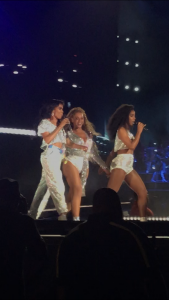 It was surreal for sure. Something really neat that happened was AFTER Beyoncé's set. The ladies from HAIM walked right by us, as well as Maya Rudolph! My friend got a photo with two of the HAIM members and we both snapped a selfie with Maya. She was so sweet!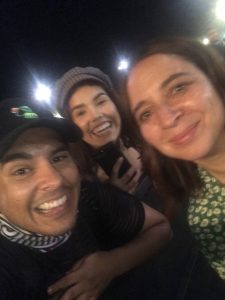 Then came day 3! On the roster for that day: Cardi B, Miguel, Migos, and Eminem. Cardi took the stage and blew me away, especially because she's pregnant and she was performing in the DESERT! She completely killed it! Unfortunately, we didn't get a chance to see Migos because getting to their stage was a nightmare and incredibly packed.
Overall, the weekend was a blast! I had a great time with my friends and made memories I'll never forget! Until next time, Coachella!