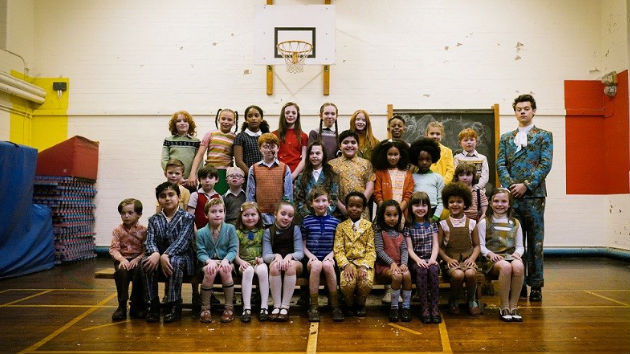 Hélène Marie Pambrun
Hélène Marie PambrunTensions run high at the school bake sale in Harry Styles' latest video for "Kiwi."
The clip begins with a bunch of impeccably dressed children standing around their school auditorium, grimacing at each other over colorfully decorated baked goods. The tension is broken when a girl enters the auditorium armed with a container of blue frosted cupcakes.
A massive food fight erupts, and suddenly Harry enters — with a pack of hungry puppies.
The video ends with all the students — now messy with frosting — posing for a school photo with Harry in the middle, giving a mischievous smirk.
And in case you were concerned, the beginning of the video has the disclaimer: "No children or animals were harmed during the making of this film."
Copyright © 2017, ABC Radio. All rights reserved.