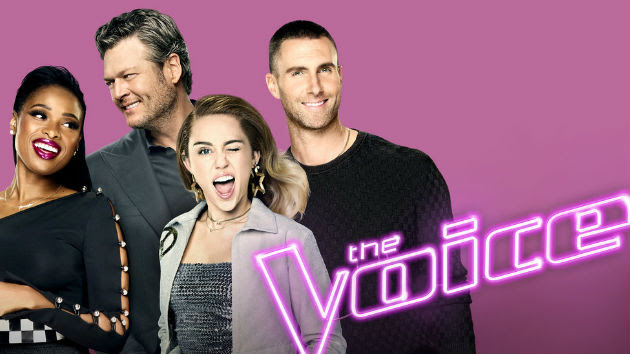 NBC Universal
NBC UniversalThe knockout rounds concluded on Tuesday's edition of The Voice, a night that saw coach Jennifer Hudson steal an artist from Adam Levine.
Artists from coach Blake Shelton's team also duked it out to see which ones would make it to the live rounds. None of Miley Cyrus' artists performed.
To make things even more interesting, each artist had to watch his or her opponent rehearse.
Advising the artists for the knockout rounds was season-14 coach Kelly Clarkson.
Here are the highlights from Tuesday night's episode:
First up, it was "the battle of the big voices" – Chris Weaver, belting out Nina Simone's version of "I Put a Spell on You," facing off against Katrina Rose, covering "Zombie" by The Cranberries, representing Team Jennifer. During rehearsals, Hudson urged Weaver to rely more on the bottom of his range, in order to make the big notes "pay off." Rose was advised to be careful not to let her energy take away from the passion of her performance. Jennifer and the other coaches all agreed that Chris was the clear winner. He moves on to the live rounds, while Katrina was sent packing.
Next up, Team Blake's Megan Rose, tackling Carrie Underwood's "Smoke Break," went up against Red Marlow, singing Craig Campbell's "Outskirts of Heaven." Blake, addressing the camera, said the artist who "steps into the part they're playing when they sing [their] song" would be the winner of the knockout. Megan's nerves seemed to have gotten the better of her during the performance, in contrast to Marlow's polished delivery, leading Blake to declare him the winner. He advances to the next round, while Rose heads home.
Closing out the show was Team Adam's Anthony Alexander, performing "Mercy" by Shawn Mendes, going up against Hannah Mrozak, with Rihanna's "Love on the Brain." Anthony's task, according to Levine, was to "push himself over the top." Hannah needed to "step up her game" as well. Once again, nerves proved to be Anthony's nemesis, but Adam took a chance with the 17-year-old high school senior anyway. He advances to the live rounds.
However, Mrozak also continues to the live rounds, now representing Team JHud, who stole her away from Adam.
Here's a rundown of each coach's artists:
Team Adam: Addison Agen, Anthony Alexander, Adam Cunningham, Emily Luther, Jon Mero
Team Blake: Mitchell Lee, Chloe Kohanski, Red Marlow, Keisha Renee, Esera Tuaolo
Team Miley: Ashland Craft, Moriah Formica, Janice Freeman, Adam Pearce, Brooke Simpson
Team Jennifer: Davon Fleming, Shi'Ann Jones, Noah Mac, Hannah Mrozak, Chris Weaver
The Voice live rounds kick off Monday night at 8 p.m. ET on NBC.
Copyright © 2017, ABC Radio. All rights reserved.