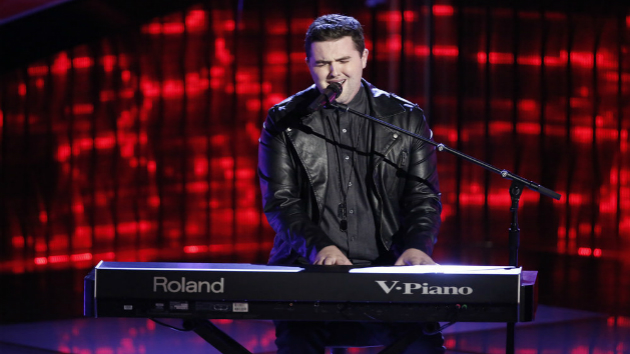 Tyler Golden/NBC
Tyler Golden/NBCWeek one of the new season of The Voice continued Monday night, with more hopefuls participating in the blind auditions.
Adam Levine, Blake Shelton, Alicia Keys and Gwen Stefani were back in their rotating chairs, looking to add new members to their respective teams, and Alicia landed an artist whose uncles are former teen heartthrobs David and Shaun Cassidy.
Here are the highlights from Thursday night's episode:
Troy Ramey was influenced by his dad, a local musician who lost a battle with cancer. Troy picked up his dad's guitars and played in a band for five years. His version of Cat Stevens' "Wild World" got all four coaches to turn their chairs. Adam said Ramey showed everyone he was "a major contender to win [the competition]." Gwen praised the singer's attention to lyrics, declaring that he made the song sound like his own. Alicia said Troy's voice had "all the greats rolled up into it." Blake turned on the charm, calling Ramey's mother — who liked Blake's dimples — to the stage for a little flirting. However, it was Blake's girlfriend Gwen who won the battle.
You may not have heard of Jack Cassidy, but you know his famous uncles, former teen heartthrobs David and Shaun Cassidy. You may also know his grandmother, legendary actress, Shirley Jones, and his grandfather, a Tony Award winning actor and his namesake. Jack got Adam and Alicia to hit their buttons with his performance of Joan Osborne's "One of Us." Adam noted that while there were some flaws, Jack's "passionate commitment" to the lyrics more than made up for them. Alicia pointed out that they both play the piano and sing. It was good enough to convince Cassidy to join Alicia.
Miami, Florida native Kawan DeBose is the son of a pastor and grew up singing gospel music. He impressed three out of the four coaches with his version of Marvin Gaye's "Let's Get It On." Adam compared DeBose's voice to Prince. Gwen said she and Kawan were both on a "crazy journey" and wanted to share her experiences with him. Blake said the artist "lit up the stage" with his personality, and all he had to do was get out of Kawan's way. After an intense battle, Adam coaxed DeBose to join his team.
Aaliyah Rose, 14, grew up performing in singing competitions and county fairs before creating her own YouTube channel when she was 10 years old. Her version of Meghan Trainor's "Lips Are Movin'" earned five million views and the attention of Meghan, who chatted up the teen and sent a pre-taped video message wishing Aaliyah luck. Rose's take on Andra Day's "Rise Up" pleased Gwen, who had been hoping for a young female singer to mentor.
Josh West, a 17-year-old from Glendale, Arizona who sings in a band with his father, closed out Tuesday night's auditions by getting all four coaches to turn their chairs with his cover of Duran Duran's "Ordinary World." Adam was said he loved the way Josh's voice "filled the room," before name-dropping some 1990s rock bands as a way of showing West how much they had in common. Alicia called it "an awe-inspiring performance." Blake insisted that he's a fan of rock music, even though he doesn't play it for a living. Gwen said that Josh has the kind of voice she'd listen to outside of the show. West picked Adam.
The Voice returns Tuesday night at 8 p.m. ET on NBC.
Copyright © 2017, ABC Radio. All rights reserved.