Eloy's Take is a series where I review the latest albums from music's biggest names (and not-so-big names). Today, a lot of what we hear are just the singles, but I grew up listening to albums all the way through and I think more people should do the same because some times you may miss out on a really great track that's not as popular! I hope you enjoy!
This week's album: Starboy by The Weeknd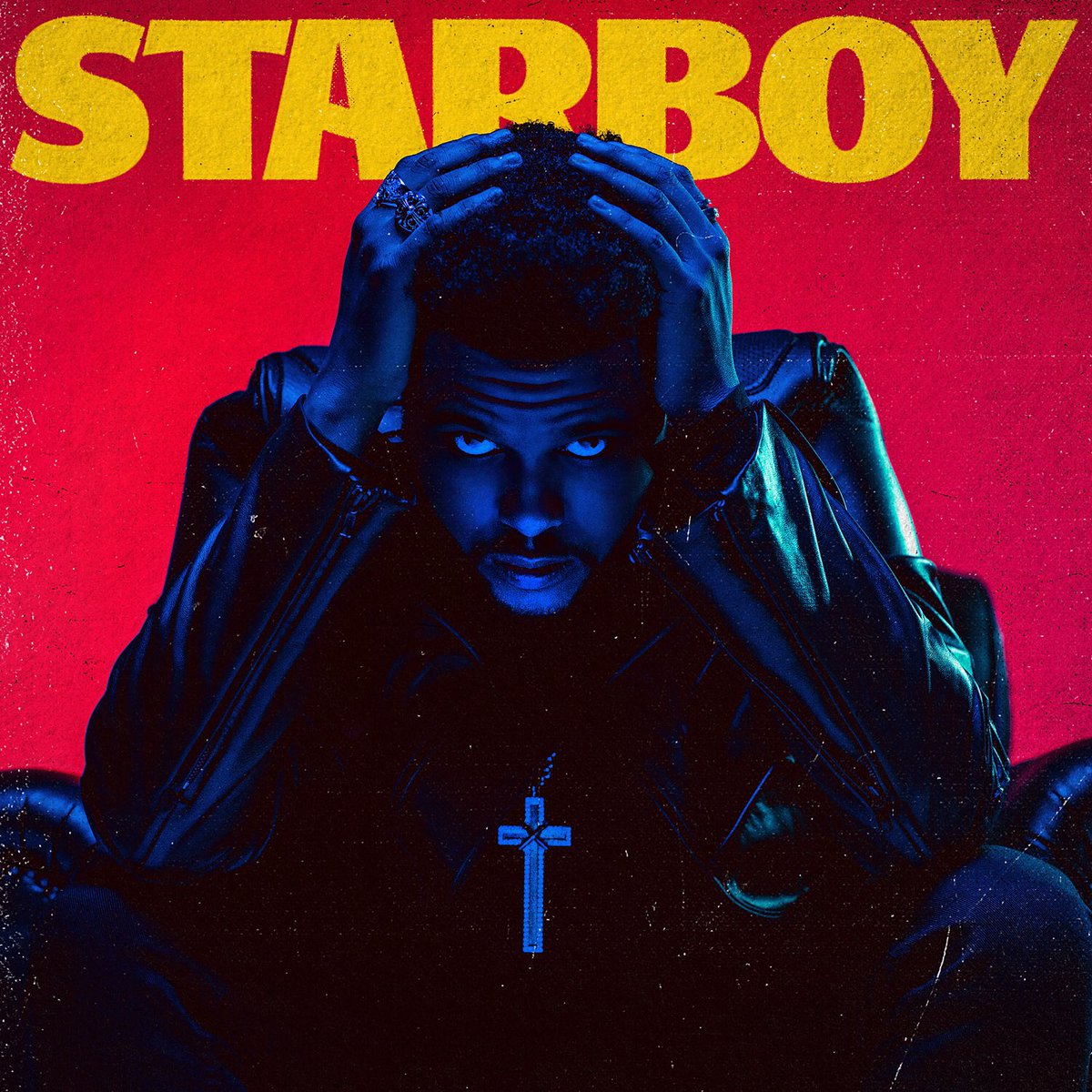 The Weeknd sure has come a long way since he first made his way onto music lover's iPods back in 2010. The Weeknd, whose real name is Abel Makkonen Tesfaye, is not by any means a new artist. By 2014, he had already released three critically-lauded mixtapes and a debut studio album, Kissland, but he didn't gain mainstream recognition until his smash hit "Can't Feel My Face" last year. That song, and the accompanying album Beauty Behind the Madness, turned The Weeknd into a bonafide music superstar. In 2016, one would have thought that The Weeknd was going to take a break, but that couldn't have been farther from the truth! He stayed busy by appearing on a few collaborations, including Beyoncé's Lemonade track "6 Inch." Now, barely over a year later, The Weeknd is back with his third studio album, Starboy. There was a lot riding on this – after becoming such a big star, many were curious as to whether he would be able to strike gold again. Did he pull it off? Read on below for my track-by-track review!
1. "Starboy (feat. Daft Punk)"
"Starboy," both the lead single and title track, did not strike a chord with me upon the first few listens. There was just something too slow and melodramatic about it to kick off promoting a new album. Plus, I could hardly pick up on the Daft Punk influence. But lo and behold, the song has grown on me! It's catchy and it gets stuck in your head. On the song, The Weeknd details how his life has changed since becoming a household name and while it could be seen as bragging, there is a sense of cynicism and tongue-in-cheek-ness.

2. "Party Monster"
Like a continuation of "Starboy," The Weeknd raps about a life of excess and hookups. "I'm good, I'm good, I'm great, Woke up by a girl, I don't even know her name," he sings. "Party Monster" is also about being blinded by accolades, fame, and fortune, so much so that boundary lines are blurred. He sings about how the women who he is hooking up with is in a relationship with someone else. "Party Monster" feels like the darker, more sinister version of "Starboy." Personally, I like it better!
3. "False Alarm"
The first time that The Weeknd's fans heard "Can't Feel My Face," many were put off, mostly because it sounds nothing like his previous work. The same is true for "False Alarm," which is precisely why I love this song. I love when artists aren't afraid to shake things up and change their sound altogether. Sometimes it pays off, other times, not so much. Thankfully for The Weeknd, it works on "False Alarm." It's a track about a femme fatale who is consumed by a material life. It's fast-paced, frantic, and it makes you want to dance. Simply put, it's awesome!
4. "Reminder"
To those who claim that The Weeknd has lost his edge and has sold out, "Reminder" is his response to them. He asserts, "Every time we try to forget who I am, I'll be right there to remind you again." "Reminder" slows things down a bit but it's fitting that it is placed right after "False Alarm," a sure-fire radio hit.
5. "Rockin'"
Damn, this song makes me feel good! Over a beat that's fine-tuned to be a club banger, and all about having fun, no strings attached, The Weeknd sings, "You don't have to spend your life with me, You don't have to waste your energy, We can just be rockin'." Not to mention, his vocals are reminiscent of the late great Michael Jackson, a comparison he has received on more than a few occasions. It segues perfectly into…
6. "Secrets"
…"Secrets," which compares to another 80's music artist, Tears For Fears – "Secrets" samples their song, "Pale Shelter" and gives it a facelift. "Secrets" takes the same upbeat tempo from "Rockin'" but slows it down a bit, and it works perfectly. In fact, both songs pair seamlessly, so much so that they could be confused for one whole song. Another solid track off of Starboy.
7. "True Colors"
"Girl, come show me your true colors, Paint me a picture with your true colors, These are the questions of a new lover," The Weeknd pleads. The infidelity showcased in "Party Monster" don't seem to matter, as he begs his love interest to be forthcoming with her sexual past and who she has been with. It's not a bad song, but the premise that is set up in the track is a bit silly when provided the larger context of his own promiscuity.
8. "Stargirl Interlude (feat. Lana Del Ray)"
  Most of this song is sung by Lana Del Ray, but it's not the first time the two have worked together – Lana was featured on his song "Prisoner" off of Beauty Behind the Madness. Personally, I find Lana Del Rey to be a terribly unskilled vocalist, but the track provides a welcome, dream-like beat to split the album up.
9. "Sidewalks (feat. Kendrick Lamar)"
Kendrick Lamar is one of the biggest names in rap music right now so it's no surprise that The Weeknd collaborated with him. Thankfully, Kendrick's contribution doesn't feel like a throwaway verse. The two rap about growing up in harsh, unforgiving neighborhoods (The Weeknd grew up in Scarborough, Ontario, Canada, while Kendrick was raised in Compton, CA.). The lyric "Sidewalks saved my life" serves as metaphor for coming from humble beginnings to gaining widespread success. It's a beautiful track that allows The Weeknd to reflect on his upbringing and how far he has come.
10. "Six Feet Under"
While not credited, Future assists on "Six Feet Under"'s chorus, which provides some continuity from "Low Life," another song that The Weeknd and Future collaborated on. "Six Feet Under" tells the story of a woman who will stop at nothing to make money and get what she wants, even if it kills her. This song also serves as an extension of the aforementioned Beyoncé track, "6 Inch." It's dark, depressing, and has a chorus that will stick with you long after the song is done.
11. "Love To Lay"
On "Love To Lay," The Weeknd begins to emerge as a truly complicated human being. Whereas on "Rockin'," he's aiming for an attachment-free relationship, on "Love To Lay," he yearns for commitment but struggles because the woman he's pursuing simply "loves to lay." Sampling what sounds like the tune from Queen's "Radio Ga Ga," "Love To Lay" shows us the softer side of The Weeknd and it pairs nicely with his "hard" exterior.
12. "A Lonely Night"
And just when we thought we were seeing The Weeknd open up to someone, he flips the switch on us again. Apologizing to a girl for leading her on, and employing his best MJ impersonation, he explains, "Baby girl, I loved you on a lonely night, It was the only time." It's another great dance track, but is it weird that I sort of feel like the girl that got led on? I was just getting used to the mushy version of The Weeknd.
13. "Attention"
Fully acknowledging that he is a "Starboy" now, The Weeknd gives us some insight into what handling a relationship looks like when you're forced to be on the road and away from home so often, and from the sound of it, it doesn't seem like he's handling it all that well. He states that his love interest – or hookup, given his track record – only wants attention and that she'll never feel satisfied. While a heartbreaking ballad, "Attention" is hypnotic and entrancing.
14. "Ordinary Life"
Grappling with the allure of fame and riches, The Weeknd explains that the life that he lives is anything but ordinary. He lives his life in sin and debauchery (his allusions, not my criticism) and that while people may pray that he ends his reckless behavior, it's already too late for him. It's a depressing look into what fame can do to you, but it doesn't sound like there's a whole lot of regret for him. In fact, it sounds more like he has accepted his fate and will ride it out until the end or until he "dies young," as he reiterates in the song.
15. "Nothing Without You"
It becomes increasingly clear that The Weeknd has used Starboy as his own form of therapy. Going back and forth between commitment and friends with benefits, "Nothing Without You" shows him in his most vulnerable, asking his lover if he "died tonight," would she regret it. He assures his love interest that he would be nothing without her with lyrics like, "I can't get enough, I'm insane, Without your touch." These songs stand out the most because we have already come to expect to hear songs about hooking up from The Weeknd. Ultimately, vulnerability shines brightest.
16. "All I Know (feat. Future)"
Teaming up with Future once again, The Weeknd attempts to convince a potential partner that his reputation does him an injustice. One could argue that he brought it on himself from his previous songs and lyrics, but he is determined to clear the air. "I know there's been stigma 'round me, I know you heard things about me," he says calmingly. The song doesn't stand out quite as well as the rest of the songs do, and it seems a little inauthentic for The Weeknd to try to ditch his persona when he's worked so hard to establish it.
17. "Die For You"
More of the emotional and vulnerable Weeknd please! On "Die For You," he laments a broken relationship that he still desperately wants to work out. Understanding that there's nothing left to save is a universal experience, and The Weeknd has FELT IT. It's not quite the most necessary track since he's already touched on it in the album, but it hits home the message better than his other songs mourning a lost love.
18. "I Feel It Coming (feat. Daft Punk)"
 Of all of the Michael Jackson comparisons, The Weeknd really nails it on the final track. Partnering up with Daft Punk once again, "I Feel It Coming" is easily one of Starboy's strongest additions. Between the inconsistencies of whether The Weeknd wants commitment or no-strings-attached, he closes out the album with a desire for something real and connected. Even more, he explains to his lover that he understands where she's coming from, singing, "You've been scared of love and what it did to you, You don't have to run, I know what you've been through." It's beautiful, sensual, and a feel-good track.
What The Weeknd has done here with Starboy is truly a work of art. Never mind the very few songs that don't stand out quite as well, The Weeknd has delivered truly one of the best albums of 2016. Merging retro and modern sounds, paying vocal homage to the iconic Michael Jackson, and putting the intricacies and difficulties of relationships on full display, The Weeknd shows growth, maturity, confidence, and evolution like never before. Before the year ends, do yourself and put Starboy on replay… and then continue playing it well into 2017.
Eloy's Overall Take: 9/10
Starboy is out now and you can purchase it HERE!