Eloy's Take is a series where I review the latest albums from music's biggest names (and not-so-big names). Today, a lot of what we hear are just the singles, but I grew up listening to albums all the way through and I think more people should do the same because some times you may miss out on a really great track that's not as popular! I hope you enjoy!
This week's album: 24K Magic by Bruno Mars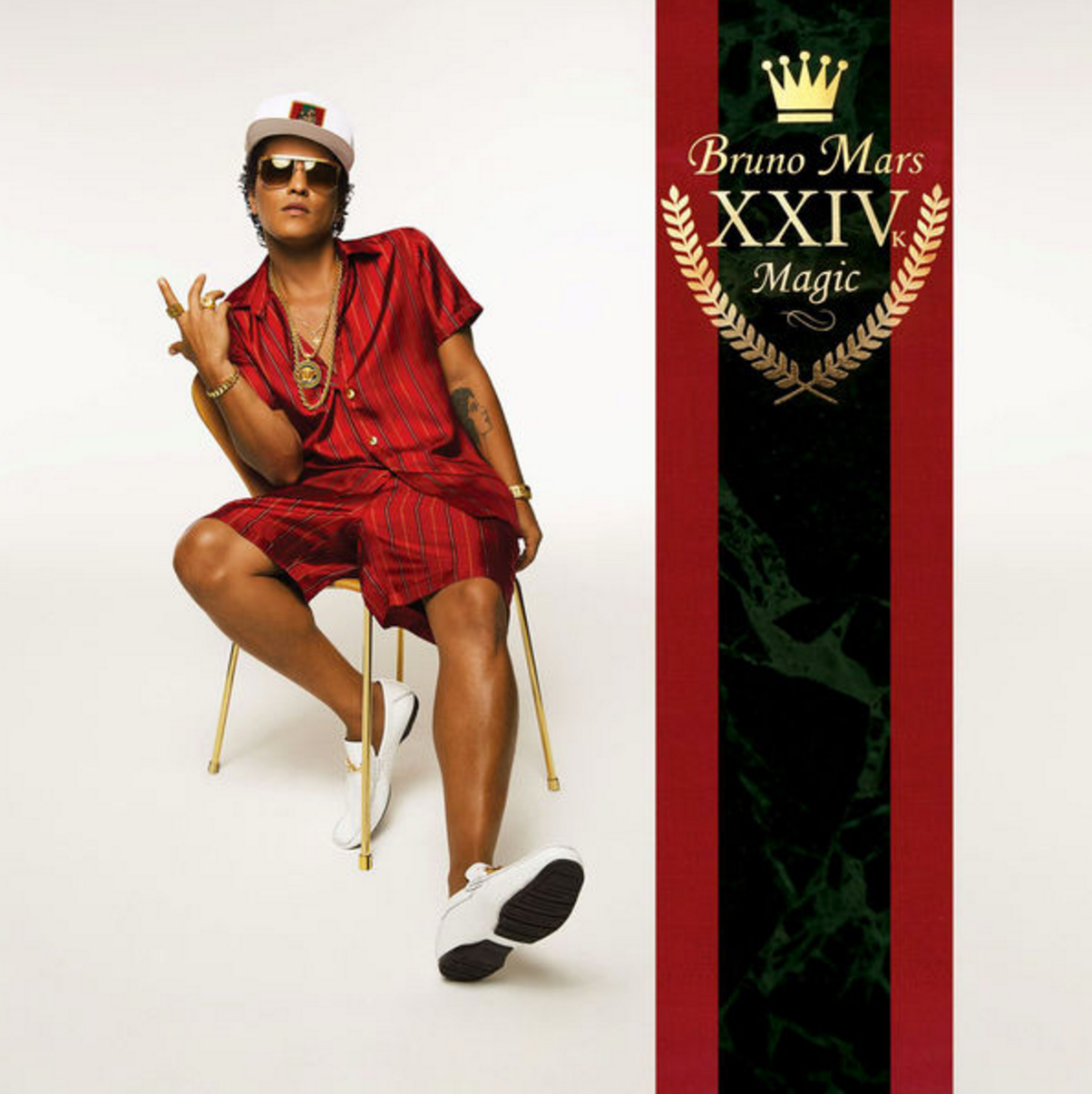 Almost exactly 4 years ago, Bruno Mars' second studio album, Unorthodox Jukebox, was released, and it showed the world that Bruno and his unique throwback sound were here to stay, and that he is truly a force to be reckoned with. In the 4 years since, he has performed at the Superbowl Halftime Show twice and has been featured on Mark Ronson's smash single, "Uptown Funk," easily one of the most popular and catchy songs of all time. Now Bruno is back with his third album, 24K Magic. Does it have the "magic" that made him such a huge star? Read on below for my track-by-track review!
| | |
| --- | --- |
| Title: | Eloy's Take: |
| "24K Magic" | The title track – and lead single – kicks off the album, and for good reason. "24K Magic" has all the right infectiousness and catchiness that made "Uptown Funk" such a hit. With lyrics like "I'm a dangerous man with some money in my pocket," and "we too fresh, got to blame it on Jesus, hashtag blessed," "24K Magic" is brimming with swagger and instantly iconic lines. With that being said, the caveat is that as soon as I heard this song, I knew that it was going to be played to death. At the time of this review, I have not yet reached that feeling so until then, I will continue to have my own private dance party in my car when this comes on! |
| "Chunky" | Bruno keeps the party going with "Chunky," an ode to… well, booties! There is always a fine line between being cheeky (pun intended) and straight up objectification, and thankfully, Bruno employs the former tactic with this song. And on a positive note, derrieres aren't the only thing about a woman that are mentioned on the song. It's fun, easy to dance to, and it's fitting that the title of the song rhymes with its sound – FUNKY! |
| "Perm" | Continuing his streak of ego-boosting and confidence, "Perm" is all about feeling fresh and making sure your 'do is lookin' good! Included are numerous hair metaphors, and while it's not a song that I would necessarily take seriously, it's still just as upbeat as the first two tracks and its keeps the pace of the album going steady. |
| "That's What I Like" | Easily one of my favorite tracks and featuring a beat reminiscent of Mariah Carey's "Touch My Body," "That's What I Like" details what to expect from dating Bruno. Promises include: silk sheets, diamonds, strawberry champagne, shopping sprees in Paris, and more. Pair all of that with Bruno's stellar vocals and "That's What I Like" is one fun ride! I wouldn't be surprised if this is selected as a future single (mostly because I really want it to be!) |
| "Versace On the Floor" | If "That's What I Like" is all about what to expect from dating Bruno Mars, then "Versace On the Floor" paints a picture of what some good 'ol fashioned bedroom fun is like with him. When I first read the title, I thought it was referring to a beautiful woman wearing Versace while on the dance floor, but now that you know that the setting is in the bedroom… well, I think we all know what "Versace on the floor" really means. Both a combination of Michael Jackson's "Human Nature" and Zapp & Roger's "I Wanna Be Your Man," "Versace On the Floor" employs the same throwback sound that most of the album relies on. It's sexy in Bruno's signature classy and suave style, and it's going to definitely be a slow-dance favorite. |
| "Straight Up and Down" | Another one of my favorites off of 24K Magic, "Straight Up and Down" is the older, sexier, and slightly dirtier brother of "Versace On the Floor." "Oh baby, we gon' have some fun tonight, straight up and down," Bruno croons. It's also hard to get the song out of your head, mostly due to the background "straight up"'s during the song's chorus. |
| "Calling All My Lovelies" | Bruno asks that we believe that someone would be standing him up (I mean, c'monnnnn) on "Calling All My Lovelies." It's about Bruno calling up all of the girls that he has on speed dial because the girl that he really wants isn't picking up the phone. The song plays like a brag to the girl that he's trying to reach, as an attempt to hopefully make her feel jealous enough to pick up the phone. Lo and behold, we find out that the girl – woman, really – is Halle Berry, as her voicemail recording can be heard (it really does sound like Halle, so kudos to Bruno if he was really able to pull that off!). |
| "Finesse" | During this whole song, I kept expecting Bell, Biv, AND DeVoe to pop up. The song even begins with the instantly recognizable drum beat from "Poison." The song is dripping with New Jack Swing, and that's not a bad thing. "Finesse" is, however, the one song on here that feels least like Bruno's very own. |
| "Too Good To Say Goodbye" | It's almost like Bruno knew what we were thinking. The 9th and final song on a very short album, "Too Good To Say Goodbye" slows things down a bit. Bruno laments a lost love on a song that sounds like a mixture of Jackson 5 and Beyonce's "Rather Die Young." It showcases his vocals well and it's a strong track, but it's not exactly the song I would've ended the album with, especially since the most of the other songs are upbeat and dancefloor-worthy. |
Clocking in at just 9 songs, 24K Magic is a solid reminder of what makes Bruno Mars so great. He's suave, sexy, and just so cool! Some may complain that the album is way too short (myself included), but I suppose it is much better to leave the listeners wanting more rather than be overly long. Overall, 24K Magic is pretty damn fun and as a music lover, I'm excited to have Bruno back!
Eloy's Overall Take: 8.5/10
24K Magic is out on Friday 11/18 and you can buy it HERE!