Eloy's Take is a series where I review the latest albums from music's biggest names (and not-so-big names). Today, a lot of what we hear are just the singles, but I grew up listening to albums all the way through and I think more people should do the same because some times you may miss out on a really great track that's not as popular! I hope you enjoy!
This week's album: HERE by Alicia Keys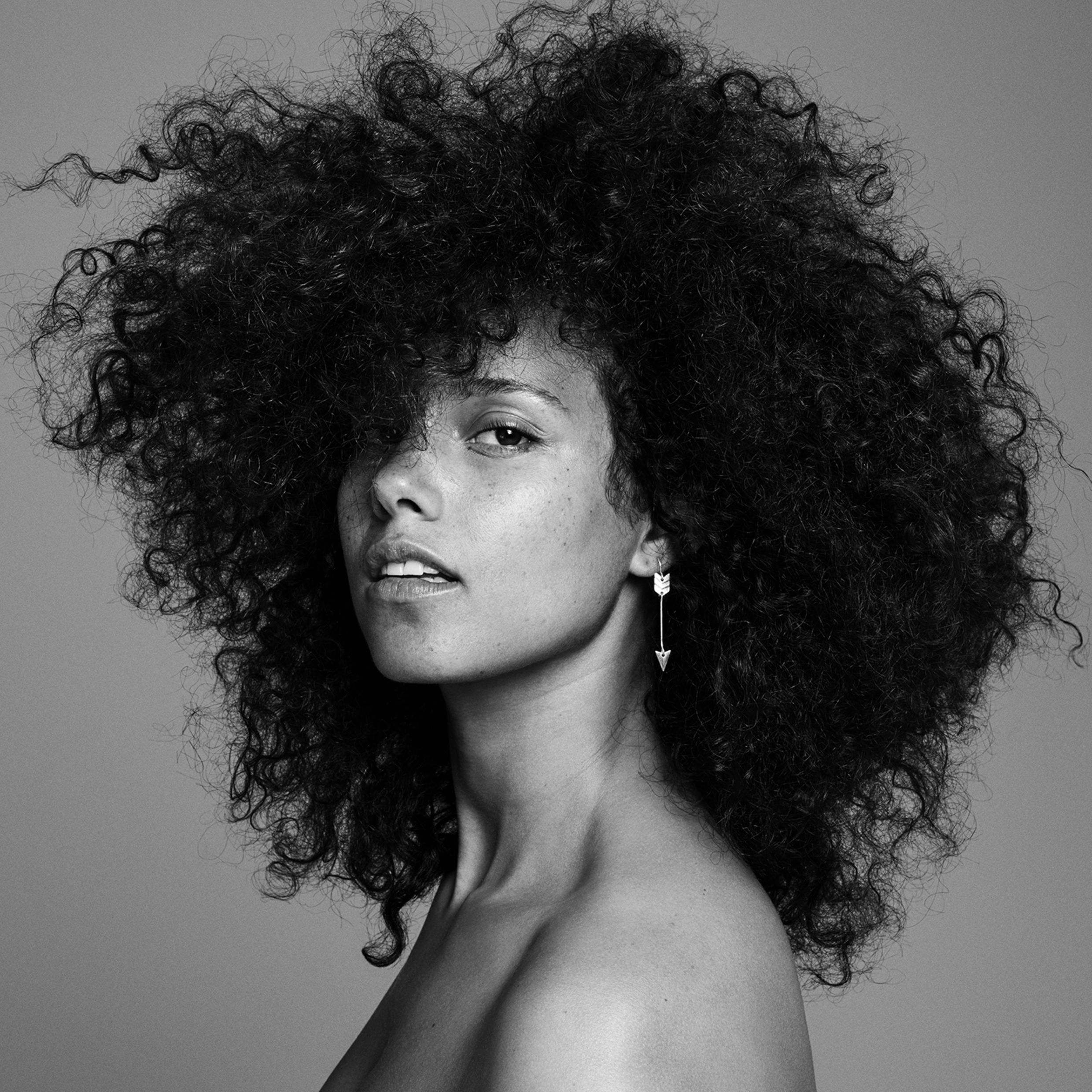 It has been almost exactly 4 years since Alicia Keys released her last album, Girl On Fire, which included the infectious hit song with the same title. However, Ms. Keys hasn't been sitting quietly on the sidelines since then – she has been vocal within the past year, namely on issues like self-esteem and racial injustice. She got many people talking when she vowed to go make-up free from now on, and she also spoke up about the shootings of Alton Sterling, Philando Castile, and countless other people of color by police officers with her "We Are Here" movement. Her latest album, HERE, touches on those subjects and many others, and she also brings a new vocal sound that, despite conventionality, puts Alicia right where she needs to be. Read on below for a track-by-track review.
*I am reviewing the Deluxe Version of HERE, which contains 18 tracks as opposed to the standard version, which contains 16.
| | |
| --- | --- |
| Title: | Eloy's Take: |
| "The Beginning (Interlude)" | Interludes tend to be a hit-or-miss for me (see my review of Tove Lo's recent album), but Alicia made something concrete out of her interludes and they are reminiscent of the ones on the classic Lauryn Hill album, The Miseducation of Lauryn Hill. Even better, these interludes segue directly into the songs, which allows for a more seamless sound. "The Beginning" is like a spoken word poem, where Alicia describes who she is, comparing herself to Nina Simone and to the beautiful sounds we hear while listening to music. |
| "The Gospel" | Right away, it becomes clear that on some songs, Alicia is intending to tell her story through the story of others. "The Gospel" paints a picture of what life is like for people living in a ghetto, with lyrics referencing poverty, drug abuse, physical abuse, and other harsh realities. "The Gospel" is an excellent starting point for the album and it sets the tone for the type of subject matter that you can expect to hear from Alicia this time around. |
| "Pawn It All" | In "Pawn It All," Alicia expresses a person's longing for a normal life again, so much so that they would be willing to pawn off all of their possessions to do so. The lyrics are interesting because the verses sound like they are coming from Alicia's experiences, but the chorus sounds like the story of someone who is almost desperate to get out of their current situation. It follows a similar narrative that's heard in "The Gospel," where her story merges with the stories of others. Also, I dare you to hear this song without it getting stuck in your head! |
| "Elaine Brown (Interlude)" | This is another spoken word poem that plays like a love letter, and an apology as well, to black mothers. "Black Mother, I must confess that I still breathe though you are not yet free," the poem laments. The interlude is named after Elaine Brown, the former chairwoman of The Black Panther Party, and it echoes the pain felt after the shootings of countless people of color. |
| "Kill Your Mama" | Alicia goes straight for the heart with "Kill Your Mama," a song about the state of our country and how we as a culture have allowed so many unnecessary circumstances to persist for so long. "Shame on us, all your sons and your daughters – thieve all your gold and we poison all your water," Alicia proclaims on a direct reference to the Flint water crisis. Other issues get touched on in "Kill Your Mama," and it's truly a tragic but realistic song. However, because of it's country/folk sound, I can't help but draw comparisons to Beyoncé's country-tinged "Daddy Lessons" off of her album Lemonade. That doesn't make "Kill Your Mama" any less good, but the similarities in sound are glaring. |
| "She Don't Really Care_1 Luv" | On "She Don't Really Care," Alicia sings about a young woman searching for self-worth, while succumbing to pleasing men before pleasing herself. It's also broken up into two parts, with "1 Luv" coming into play at around the 3:40 minute mark. "1 Luv" is essentially a redemption song where the aforementioned woman has come into her own and has found a way to embrace herself. It's a beautiful song that merges two contrasting parts of one woman's journey, and it's been pieced together so thoughtfully. |
| "Elevate (Interlude)" | Alicia includes a glimpse into the writing process with "Elevate." It's not exactly necessary but it's a nice little idea of how she collaborates and finds inspiration from others. |
| "Illusion of Bliss" | Every time an artist takes a risk, I believe that they deserve to be commended even if that doesn't pay off. It's difficult to say whether Alicia succeeds with "Illusion of Bliss," because she displays zero vocal control in this song. That may sound like a bad thing but the lack of control is intentional. Alicia wants you to hear her pain on this song and you definitely do. She screeches, reaches for notes outside of her range, and wails like a scorned lover. Personally, I love it, and I think that it fits the subject matter, as she sings about no longer wanting to fall into a relationship that's not healthy or real, but I can see her vocal choices on this song sounding unpleasant to some. |
| "Blended Family (What You Do For Love) [feat. A$AP Rocky]" | Keys teamed up with rapper A$AP Rocky for her lead single about how the family you're born into isn't the only type of family you'll have in your life. She wrote this song to the son that her husband, music producer Swizz Beatz, had with another woman before becoming romantically involved with Alicia. The media tore Alicia up, branding her as a "home-wrecker," and so "Blended Family" is Alicia's promise to Swizz's son that she will always put him first and she loves him as her own. The song is a nice gesture, but it borders on cheesiness and A$AP Rocky's verse is unnecessary. |
| "Work On It" | "Work On It" is a true standout track that addresses the up's and down's of relationships. Alicia is honest and vulnerable in that she realizes that relationships take time and most importantly, work. "We're gonna make it, if we try," Alicia sings. It also helps that the beat is incredibly catchy. There's a lot to admire in hearing Alicia be so real, and that makes "Work On It" such a great song! |
| "Cocoa Butter (Interlude)" | "Cocoa Butter" features a conversation between Alicia and two men, discussing physical insecurities. They talk about women using cocoa butter to cover up their stretch marks, and it's charming but honest at the same time. It leads perfectly into "Girl Can't Be Herself." |
| "Girl Can't Be Herself" | Alicia sings about the struggles that women and young girls face in our culture. It's true that men face unfair standards as well, but women face it on a more severe and constant level. In "Cocoa Butter," we hear the two men talking about what they're insecure about, almost in a way to discredit the expectations that women face. On this song, Alicia sings, "When a girl can't be herself no more, I just wanna cry, I just wanna cry for the world." She references her decision to go make-up free and how people arbitrarily decide what "beauty" is, which is odd considering it's subjective. The song makes valid points and contains poignant lyrics. |
| "You Glow (Interlude)" | Alicia recites an excerpt about a young girl who rejects the notion of just"being black," insisting that she "glows." It's short, but sweet! |
| "More Than We Know" | On another standout track, Alicia sings about the possibilities that we are capable of, as the human race. It's an uplifting song that implores us to realize that "we can do more than we know." Another reason that makes the song so beautiful is the throwback, R&B beat that is reminiscent of Marvin Gaye and Sunday night oldies. "More Than We Know" is easily one of my favorites! |
| "Where Do We Begin Now?" | Once again, we find the line blurred between whether Alicia is recounting her own experiences or sharing the experiences of others. She asks, "What're they gonna do that we're the same sex, and we're spending all this time?" The song is about a love forced to be hidden because it is a same-sex relationship. It strikes a personal chord for me, due to my own sexuality, and I am sure it will do the same for many other listeners. Part of me feels that this from Alicia's own story because she sings it with such conviction and vulnerability. |
| "Holy War" | Much like the album's theme, "Holy War" urges people to stop fearing and hating each other and practice love instead. Alicia examines the ways in which we allow our differences to keep us divided, and the skewed perspectives that we have ("If war is holy and sex is obscene, then we got it twisted in this lucid dream"). It's a "come-together" song that, thankfully, feels more authentic than corny. |
| "Hallelujah" | "Hallelujah" feels like an unnecessary extension of "Holy War," and it probably is because it's one of the two bonus tracks included on the deluxe version of the album. There's nothing wrong with the song, necessarily, it's just a different version of "Holy War" where instead of speaking to our brothers and sisters, Alicia is asking god for guidance. |
| "In Common" | I've reached the conclusion that majority of Alicia Keys' latest album is really solid, but the bonus tracks are disposable. Honestly, this song is a direct rip-off of Drake and Rihanna's hit song, "Take Care." The song has the same meaning and essentially the same beat. It's not a bad song, but it's been done already. |
So what's the verdict on Alicia Keys' HERE? My advice would be to stick to the standard version because it's a really solid piece of work with a clear direction and important message. Sure, it has some tracks that aren't as strong as they should be, but if you skip the deluxe version, you'll be getting a much more cohesive album. Overall, Alicia Keys has delivered a beautiful album with a story that is timely and relevant, and one that doesn't suffer – too much, at least – from the throwaway tracks.
Eloy's Overall Take: 7/10
HERE is available now and you can buy it HERE!