Eloy's Take is a series where I review the latest albums from music's biggest names (and not-so-big names). Today, a lot of what we hear are just the singles, but I grew up listening to albums all the way through and I think more people should do the same because some times you may miss out on a really great track that's not as popular! I hope you enjoy!
This Week's Album: Joanne by Lady Gaga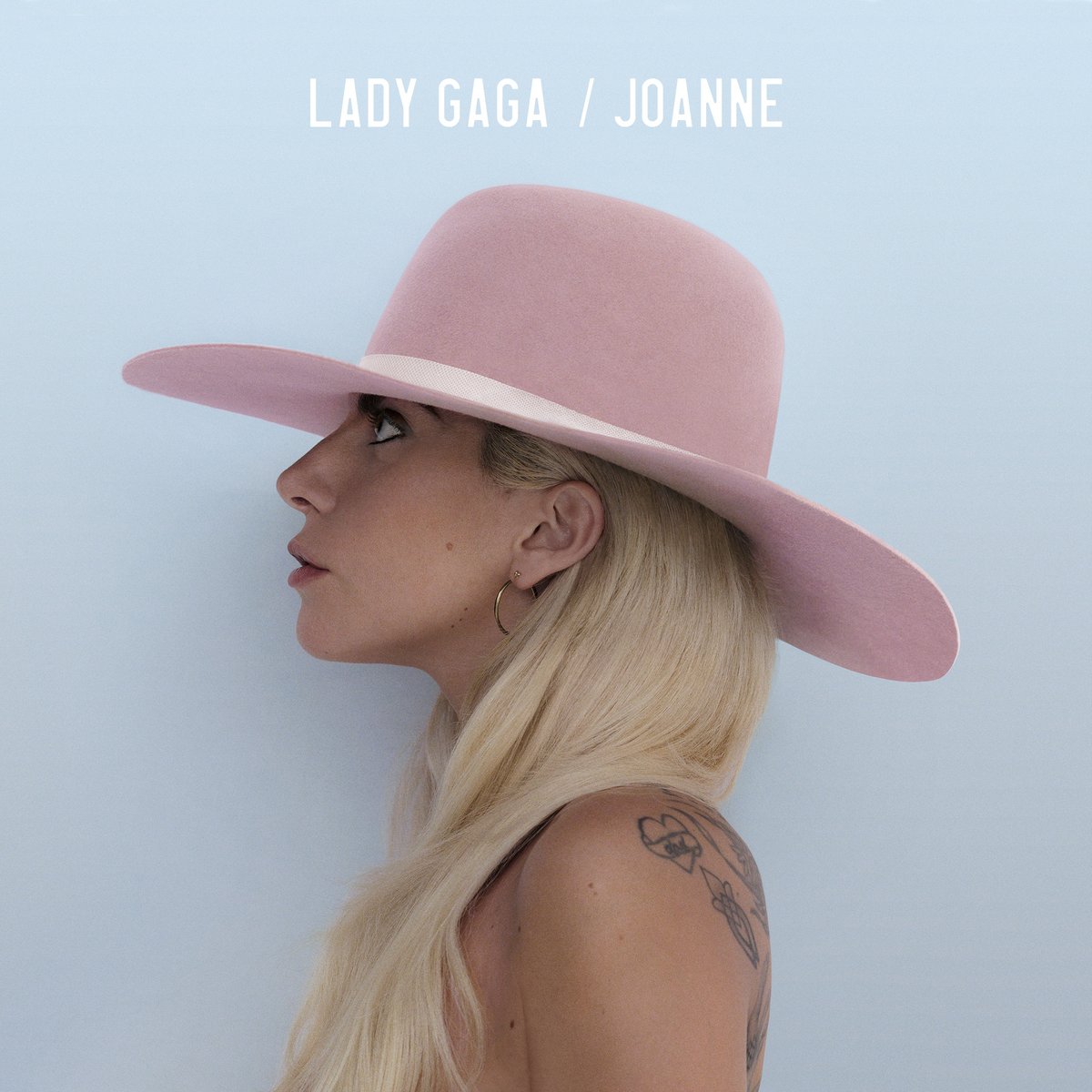 It's been almost exactly 3 years since Lady Gaga released her last album, ARTPOP (a little over 2 years if you count her Cheek to Cheek album with Tony Bennett). Critically, ARTPOP wasn't that well received and even though it sold well, it didn't surpass the incredible numbers that Born This Way brought her. Since then, Gaga has taken a step back from releasing her own music, and instead completed career resuscitation by giving two show-stopping performances at the 2015 and 2016 Academy Awards, winning a Golden Globe for her role as The Countess in "American Horror Story: Hotel," and she was even nominated for an Academy Award for Best Original Song (Gaga released a song that she co-wrote with Dianne Warren called "Til It Happens To You" that was featured in the documentary "The Hunting Ground"). Now one of the biggest names in pop music is back with her latest album Joanne. The title for the album is an ode to her late aunt, Joanne, and it's also Gaga's middle name (no, her name isn't really Lady Gaga). Read on for a track-by-track review! *Note: this is a review for the standard version – the deluxe version contains three additional tracks.
| | |
| --- | --- |
| Title: | Eloy's Take: |
| "Diamond Heart" | The album kicks off with "Diamond Heart", a song that is practically begging to be performed in a stadium. This is a perfect blend of rock 'n roll and pop and it's essentially an anthem for embracing her rebel self. "I'm not flawless but I've got a diamond heart," Gaga repeats on the chorus. The best way that I can describe this is that I can absolutely see Pat Benatar singing a song like this! |
| "A-YO" | Many people may find this song kind of odd at first because it has all the "twangs" and "yee-haws" necessary to make a country song. But it shouldn't be that shocking, considering that Gaga's "You & I" from a few years back played with country sounds as well. "A-YO" will most likely be Gaga's next single and for good reason – it's fun, brash, and sassy as hell! Gaga asserts, "I can't wait to smoke 'em all, whole pack like Marlboro – blow it your face!" This one is sure to get everyone on their feet! |
| "Joanne" | Mother Monster slows things down with the title track. Gaga has described this song as the center of the album, and it plays like a love letter for a relationship she never got to have. "Joanne" is about Gaga's late aunt of the same name who passed away at the age of 19 due to a battle with Lupus. While Gaga never got to meet Joanne, she has said that her death deeply affected Gaga's father, Joe. Gaga asks, "Girl, where do you think you're going?" in the chorus, and you can hear the pain that this loss has caused her family. "Joanne" is definitely sad but it also sounds hopeful and uplifting. The overall sound of "Joanne" is a bit on the folky side, and it'll be interesting to see people's reactions to this song since it is such a departure from her signature sound. |
| "John Wayne" | The 4th song on the album is probably my second favorite track (my top favorite song is coming up in a bit). The intro of Gaga stating that she loves a cowboy, wants to ride on the back of his horse, and wants him to "go faster!" sets the tone for the whole song – funky, fun, and in your face! When I first listened to the song, I couldn't help by compare it to "Come With Me Now" by KONGOS and that's a good thing! Gaga makes it very clear that she wants a bad boy with lyrics like "Every John is just the same, I'm sick of their city games, I crave a real wild man, I'm strung out on John Wayne." I don't own cowboy boots but "John Wayne" makes me want to buy a pair and tap my feet all day! |
| "Dancin' In Circles" | There are 3 main points that I want to make about this song: 1) This sounds like Gwen Stefani and that's not a bad thing; 2) it's incredibly catchy and I can see it being a fan favorite and maybe even a single; 3) there is no denying what this song is about (I can't state the meaning explicitly on here but just LISTEN to the lyrics and I think you'll get what I'm saying). Overall, it's a great song and the title is a clever innuendo! |
| "Perfect Illusion" | By now, you've probably heard this song because it's the lead single. Upon its release back in September, "Perfect Illusion" was pretty divisive – people either loved it or hated it, and while I wouldn't say that the sound of it is representative of the of the whole album, it signified that the album was going with a new sound than what Gaga's fans are used to. Personally, I really loved this song because it's so much fun to sing along to. Much like "Diamond Heart," "Perfect Illusion" is almost pre-packaged to be performed in a stadium. The song also made many people question whether Gaga and her former fiancé, Taylor Kinney, were truly over. Gaga denied it and said that "Perfect Illusion" was about falling hard for just about anything and having it be, well… a perfect illusion. |
| "Million Reasons" | If "Perfect Illusion" wasn't about Gaga being totally done with Taylor Kinney, then "Million Reasons" definitely is. It's a heartbreak ballad, for sure, but I suppose that if you wanted to take an abstract approach like with "Perfect Illusion," "Million Reasons" could be about anything as well, not just a lost love. "I've got a hundred million reasons to walk away, but baby I just need one good one to stay," Gaga pleads. Any way you look at the song, it's a tear-jerker. |
| "Sinner's Prayer" | THIS is my top favorite song off of "Joanne." This may be hard to believe once you hear the track because it is so not like anything Gaga has done before, but that's exactly why I love it. It sounds like a lost Johnny Cash song, complete with the old school country sound and that sound effect that I don't know the name for but it's often used in western films where there is a stand-off between two enemies and you see a tumbleweed roll by (you know which sound effect I'm talking about). The song was also co-written by Father John Misty, former member of Fleet Foxes. "Sinner's Prayer" most likely won't ever be a radio single, but darn it, I will sing along to this so loudly when Gaga goes on tour again. |
| "Come To Mama" | When I first saw the tracklist for "Joanne," my mind immediately believed that this song was going to be a sexy song. It's not. It is all about Gaga acknowledging that there is a lot of pain and discord in the world, and so she says "come to mama, tell me who hurt ya," in true Mother Monster fashion. If you can believe it, this song sounds like a combination of The Beatles and 60's Motown. It's certainly not a bad thing, but it's easily one of the weaker cuts. However, "The only prisons that exist are ones we put each other in" is a fantastic lyric and words to live by. |
| "Hey Girl (feat. Florence Welch)" | I have mixed feelings about this song. It's great, don't get me wrong, but when Gaga announced that she would be collaborating with Florence Welch of Florence + The Machine, I was expecting the collaboration to end all collaborations. I don't want to that to detract from the fact that it's a good song, because it is, but I couldn't help but feel a little underwhelmed. I immediately drew comparisons to a 70's duet, like maybe something Elton John would've done (it's worth noting that Gaga is the Godmother to Elton John's son and that "Hey Girl" borders on sampling the piano melody from "Benny and The Jets"). What's important to take away though is that the message of "Hey Girl" is about women lifting each other up while working in an industry that thrives on women tearing each other down, and that's a message that we can all get behind. |
| "Angel Down" | The final track on the standard edition carries a similar message to "Come To Mama" in that it laments the issues going on in the world today. In fact, "Angel Down" is like "Come To Mama"'s much more somber sister. It's an interesting note to end the album on, but then again, Gaga has always been outspoken about social and global issues. There's not one specific issue that "Angel Down" addresses, but it's easy to assume that it's about tolerance and acceptance when Gaga asks, "Doesn't everyone belong in the arms of the sacred?" Nevertheless, "Angel Down" is a beautiful song and it ends with some really cool, distorted audio effects. |
So, now that Gaga is back, what is the overall opinion on her newest album? It can honestly go either way. Personally, it's one of my top three favorite Lady Gaga albums but I can foresee it being very divisive among music fans and especially fans of Gaga. There aren't any massive club hits on this record and a lot of the album is slow-paced. My advice would be to go into listening to the album with an open mind and set aside the fact that Lady Gaga is responsible for some of the biggest pop hits of the last decade, including "Poker Face," Just Dance," Bad Romance," and more. Instead, approach "Joanne" as a new chapter in Gaga's ever-growing catalog of music and as a much more focused and mature direction. She's still Gaga, she's just growing up and making changes, and that's okay.
Eloy's Overall Take: 8/10
Joanne is out NOW, and you can buy it HERE!