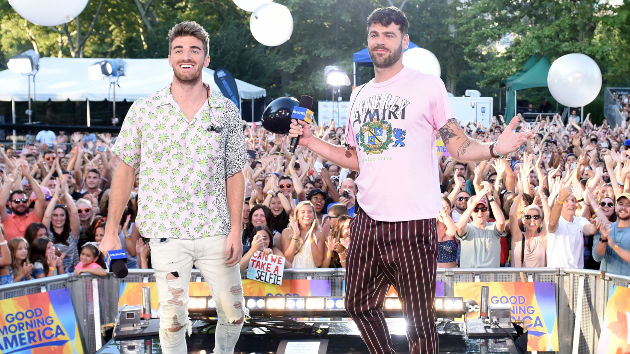 ABC/Paula Lobo
ABC/Paula Lobo
In the past 12 months, we've seen Bebe Rexha and Hailee Steinfeld both teaming with country duo Florida Georgia Line for singles — "Meant to Be" and "Let Me Go," respectively. We've also seen Zedd teaming with country star Maren Morris on "The Middle." Now, get ready for the next big country/pop collaboration: The Chainsmokers and chart-topping country star Kelsea Ballerini.
Both artists have been hinting at a joint project for a while, and they confirmed it via social media Thursday morning, sharing a black, white and red drawing that simply says Tuesday's date, 9/18.
The picture shows a female skeleton in the foreground, between two male skeletons who each have an arrow through their heart, with more red hearts hovering around their heads. There's no mention of the song's title.
"New music! Set your calendar!" The Chainsmokers tweeted, tagging Kelsea in the post.
Kelsea, 25, is one of country music's brightest stars, with a string of #1 hits to her name. In 2016, she co-hosted the ABC summer music series Greatest Hits with Arsenio Hall.
The Chainsmokers aren't new to country collaborations, by the way: Their album Memories: Do Not Open featured a song called "Last Day Alive" which was a duet with, yes, Florida Georgia Line.
Copyright © 2018, ABC Radio. All rights reserved.