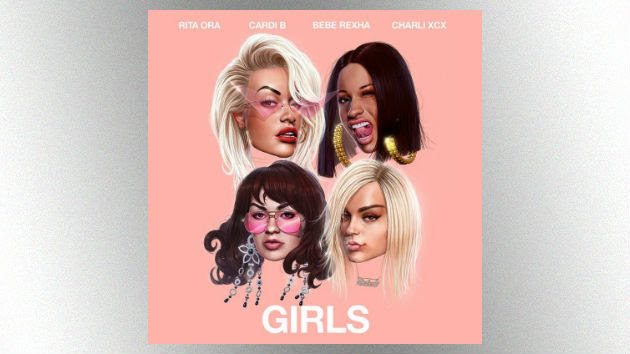 Atlantic RecordsRita Ora issued an apology Monday over her song "Girls," featuring Bebe Rexha, Charli XCX and Cardi B, after some in the the LGBT community said its lyrics suggest that alcohol is a part of same-sex love. Now, Cardi is also addressing the song's controversial bi-curious lyrics.
"Listen to 'GIRLS' by Rita Ora ft me @BebeRexha @charli_xcx," Cardi tweeted. "We never try to cause harm or had bad intentions with the song."
She added, "I personally myself had experiences with other woman, with a lot of woman ! I though[t] the song was a good song and i remember my experience."
Cardi then apologized for times in the past when she may have used offensive terminology, and said she's learned from her mistakes.
"I know i have use words before that i wasn't aware that they are offensive to the LGBT community," she wrote. "I apologize for that. Not everybody knows the correct 'terms' to use. I learned and i stopped using it."
"Girls" contains the lyrics, "Sometimes, I just wanna kiss girls, girls, girls/Red wine, I just wanna kiss girls, girls, girls." Some fans and even fellow artists such as Kehlani and Hayley Kiyoko found the lyrics problematic.
Copyright © 2018, ABC Radio. All rights reserved.