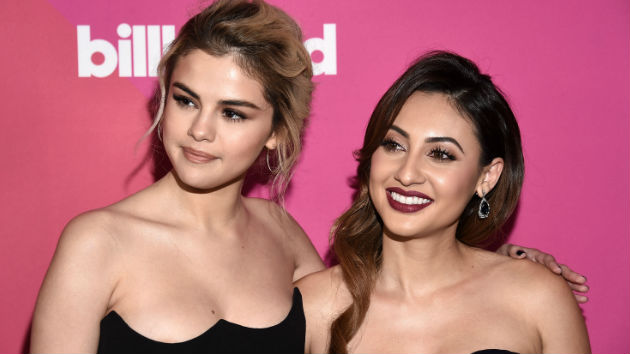 Amanda Edwards/WireImage
Amanda Edwards/WireImageSelena Gomez's best friend Francia Raísa gave the singer the ultimate gift last year: She donated a kidney to her. But now, in a new interview, Francia says there was a complication following the surgery that could have killed Selena.
Speaking to W magazine, Francia says, "Recovery was hard. I didn't want to eat, I didn't want to drink anything. Selena did have a complication, too. A few hours after our surgery, I woke up and had a text from her that said, 'I'm really scared.'"
"My kidney was very active, and when it turned I broke an artery," she explains. "They had to take her into emergency surgery and get a vein from her leg and build a new artery to keep my kidney in place. She could have died."
The two kept the surgery, which took place last summer, a secret for weeks, finally revealing it on social media in September.
"We didn't want to tell anybody because recovery was very hard for us, and we went through a depression at the time," explains Francia. "We kind of just wanted to be normal and not have that attention on us. I really left it up to her."
Francia now stars in Freeform's hit series grown-ish, a spinoff of ABC's black-ish that focuses on Yara Shahidi's black-ish character, Zoey Johnson, and her life in college. Francia plays Zoey's roommate.
In addition, she tells W she wants to branch out into producing, after being encouraged to do so by Selena's mom Mandy, who helped produced Netflix's 13 Reasons Why. Selena, meanwhile, is still working on her new album.
Copyright © 2018, ABC Radio. All rights reserved.