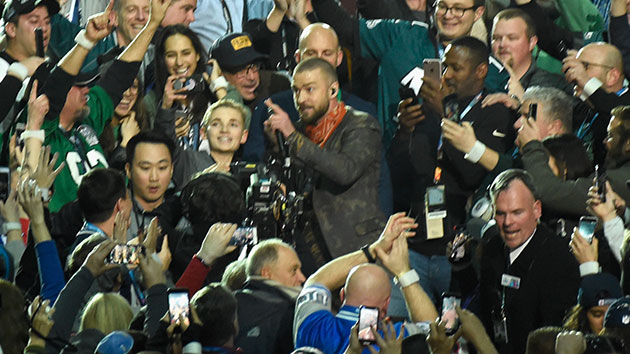 Kevin Mazur/WireImageThere were a lot of tweet-able moments from Justin Timberlake's Super Bowl halftime show last night, but not surprisingly, the most-tweeted moment involved #SelfieKid.
According to data from Twitter, Justin performing "Can't Stop the Feeling" in the stands of Minneapolis' U.S. Bank Stadium – and taking a selfie with a young fan – topped the list of most-tweeted about moments. The fan has since been identified as a 13-year-old Massachusetts native named Ryan.
"Everyone in my row was telling me I was all over Twitter and stuff and my phone exploded," the teen told ABC News following the encounter. "I've probably gotten like 45-50 calls in like the last 20 minutes."
The second most-tweeted moment was Justin playing piano and singing "Until the End of Time" alongside a projection of Prince. Coming in third was Justin performing "Suit & Tie" with a full marching band.
During the live performance, between 8:10 p.m. ET and 8:40 p.m. ET, there were a total of 1.8 million tweets about the #PepsiHalftime show.
Copyright © 2018, ABC Radio. All rights reserved.