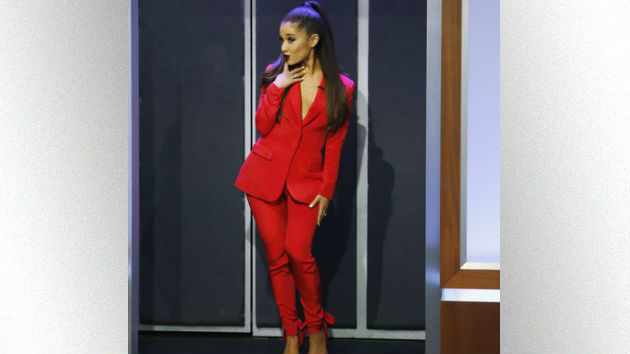 ABC/Randy HolmesThe next time you see Ariana Grande kicking back in kicks, they'll be Reeboks. Women's Wear Daily reports that Ari is the latest ambassador for the sneaker brand.
For the first images of her campaign, the singer was photographed in Melbourne, Australia during her Dangerous Woman tour. She's shown wearing a huge white sweatshirt with the Reebok logo and, of course, Reebok sneakers. "Bold. Confident. Defiant. From the styles she wears to the sweat that she drips, @ArianaGrande is constantly challenging conventions, inspiring dangerous women everywhere to be their best selves," reads the caption.
On her own Instagram account, Ariana posted a photo of herself from the same session, in a slightly different pose. The caption reads, "Confidence, self belief and self expression. I am proud to partner with @Reebok who has the same ideals and beliefs as me & that I hope to instill in my babes."
In a statement provided to WWD, Ariana says, "Like Reebok, I fiercely stand for those who express themselves, celebrate their individuality and push boundaries. I'm an advocate for people accepting themselves for who they are."
She continues. "Reebok's message of enabling and encouraging self-belief and self-betterment is something I fundamentally live by. I'm honored to partner with a brand whose mission is to inspire people to be the best possible version of themselves."
Inspirational. Bold. Strong. @ArianaGrande lives & breathes #BeMoreHuman. Welcome to the fam, Ari! #ArianaxReebok https://t.co/XbzpGbwvwC pic.twitter.com/BTRbizNPc9

— Reebok (@Reebok) September 13, 2017
Copyright © 2017, ABC Radio. All rights reserved.